The Ontario Volleyball Association hosts an annual banquet to honour those who have distinguished themselves by providing their time, effort and support to the promotion and development of volleyball in the province. The banquet, known as the OVAtion Awards Banquet was held on June 3rd, 2017, presented several awards to various coaches and athletes for their achievements throughout the year.
The Waterloo Tigers was the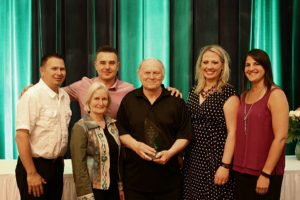 recipient of the Doug Robbie Volunteer of the Year award for their impact on the promotion and development of volleyball for the OVA at the regional or provincial level in the past year.
In addition to this prestigious award, two of our coaches were presented with a Recognition Award which is presented to an individual who has been involved in the development of volleyball at the club or provincial level for 5 years or more. Congratulations to Pierre Baril and Marek Gwozdz.
A complete list of award winners can be found on the OVA website.