The Waterloo Tigers 14U Black team headed to the nations capital to participate in the Volleyball Canada Nationals tournament.
They had a chance to meet the Hon. Bardish Chagger, member of parliament for riding of Waterloo.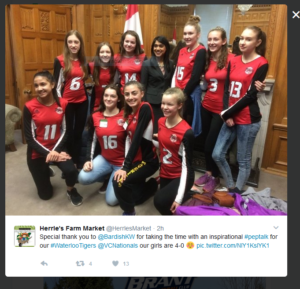 On Friday, participating in the 14U Girls Division 2 group, they defeated opponents LVC Fire Intensity and Peel Selects 03 in two straight sets. In their third match of the day, the Scarborough Titans Nemesis were able to stop the win streak defeating our athletes 25-19, 25-17 in two straight sets.
In the Power Pool Saturday, our athletes played well again – defeating the Aftershock team from Quebec and our neighbours in Cambridge – Scorpions 13U.  However, after forcing a 3rd set with Markham Revolution Fusion, they were defeated 15-11. This was not the last time they would see the Revolution Fusion team as they were both placed in the Tier 1 bracket for Sunday.
Playoffs started off with a bang as our athletes defeated West Nipissing Wild in two sets. The semi final match was also a two set win against Defensa White. This set the stage for a Gold medal final match against Markham Revolution Fusion. Unfortunately, our Tigers fell short in two tight sets 23-25, 24-26.
Congratulations Tigers 14U Black winning Silver at Nationals!