Congratulations to the Waterloo Tigers 15u Black team for winning GOLD in Division 2, Tier 1 of the Ontario Provincial Championships this past weekend.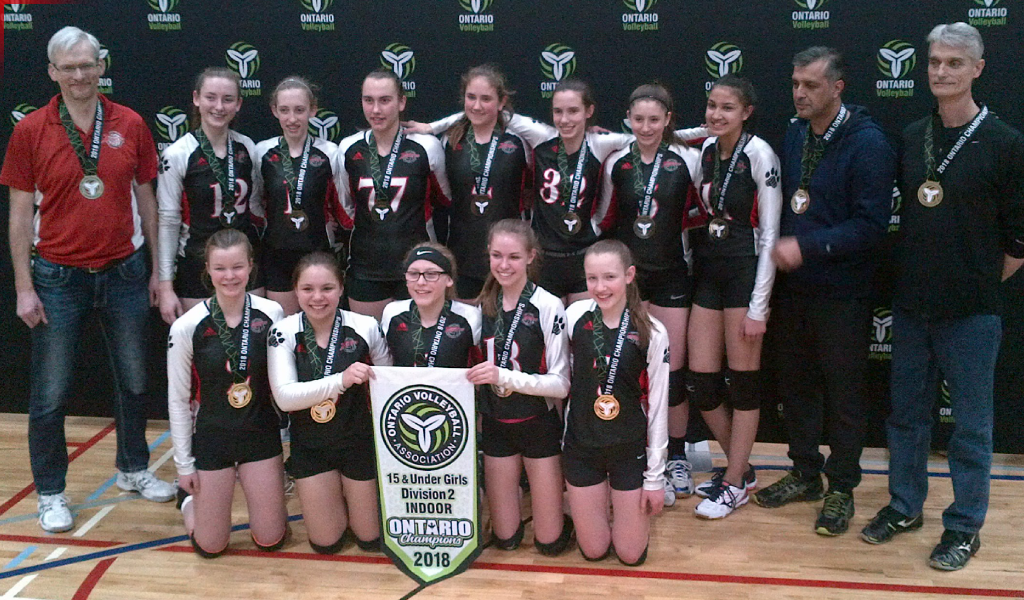 The weekend was not without challenges as Tigers 15u Black faced adversity early in their round robin matches. However, after pulling together, they beat the Markham Wildcats Tigers in three sets, then finished off Pakmen 14U and Sudbury's Northern Chill in straight sets to end their preliminary round 3-0.
Power pool Saturday added adversity as each of their matches went three sets.
The Tigers 15U Black started their Sunday Playoff round facing two rival teams from the Cambridge Scorpions and continued their win streak against the Georgian Cubs and Chatham Ballhawks to win Gold.
Congratuations Tigers!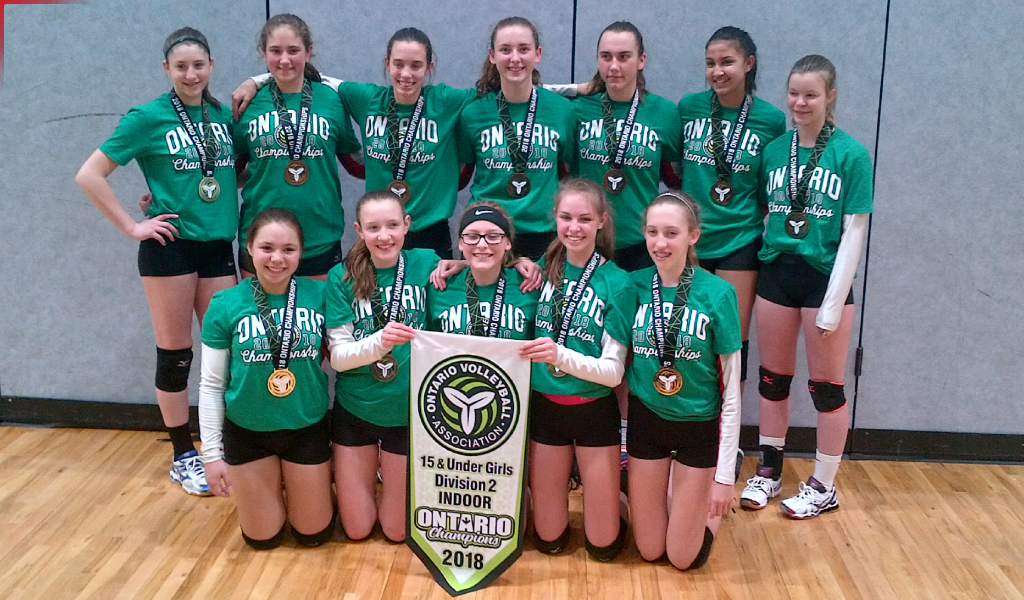 Preliminaries
4/6/2018 – 3:00 PM Round Robin PILS Court 10 Match 2006
Waterloo Tigers Black (Waterloo, ON, CAN)
Final 2-1 [25-15, 19-25, 15-6]
Markham Wildcats Tigers (Markham, ON, CAN)
4/6/2018 – 5:20 PM Round Robin PILS Court 10 Match 2022
Waterloo Tigers Black (Waterloo, ON, CAN)
Final 2-0 [25-17, 25-14]
Pakmen 14U (Missisauge, ON, CAN)
4/6/2018 – 7:40 PM Round Robin PILS Court 9 Match 2037
Northern Chill (Sudbury, ON, CAN)
Final 0-2 [22-25, 19-25]
Waterloo Tigers Black (Waterloo, ON, CAN)
Power Pools
4/7/2018 – 3:00 PM Round Robin PILS Court 8 Match 2119
London Sharks Great Whites (London, ON, CAN)
Final 1-2 [10-25, 25-9, 16-18]
Waterloo Tigers Black (Waterloo, ON, CAN)
4/7/2018 – 5:20 PM Round Robin CF Court 3 Match 2115
Forest City Blue (London, ON, CAN)
Final 1-2 [17-25, 25-16, 7-15]
Waterloo Tigers Black (Waterloo, ON, CAN)
4/7/2018 – 7:40 PM Round Robin PILS Court 8 Match 2123
Waterloo Tigers Black (Waterloo, ON, CAN)
Final 2-1 [25-11, 17-25, 15-7]
South County Black (Windsor, ON, CAN)
Playoffs
4/8/2018 – 10:20 AM Tier 1 Round of 16 PILS Court 10 Match 2207
Scorpions Venom (Cambridge, ON, CAN)
Final 1-2 [18-25, 25-19, 8-15]
Waterloo Tigers Black (Waterloo, ON, CAN)
4/8/2018 – 12:40 PM Tier 1 Quarter Final PILS Court 11 Match 2212
Waterloo Tigers Black (Waterloo, ON, CAN)
Final 2-0 [25-23, 25-19]
Scorpions Green (Cambridge, ON, CAN)
4/8/2018 – 3:00 PM Tier 1 Semi Final PILS Court 9 Match 2214
Georgian Cubs Black (Barrie, ON, CAN)
Final 0-2 [11-25, 22-25]
Waterloo Tigers Black (Waterloo, ON, CAN)
4/8/2018 – 4:40 PM Tier 1 Championship Gold Medal PILS Court 8 Match 2216
Chatham Ballhawks Blue (Chatham, ON, CAN)
Final 1-2 [12-25, 25-14, 12-15]
Waterloo Tigers Black (Waterloo, ON, CAN)