This past Saturday, our Tigers 16u Black team marched into Brock University hoping to continue the momentum from their success the previous weekend. Going into the tournament as one of the favorites, our girls quickly won both of their Pool play matches in two straight sets, giving them a bye straight to the quarterfinals. (Grimsby Vipers 15u 25-18 & 25-14)(Jr. Gryphons Black 25-15 & 25-19).
The afternoon round would prove to be more challenging as the competition elevated their game. In the Quarterfinals, the team met a fully energized Scorpions Reign team. After a highly spirited first set against a local rival, the girls regained their composure to take the match in 3 sets (26-28, 25-16 & 15-8).
Our Semifinal match proved to be a back and forth affair with a highly skilled Defensa 15u White team. Long rallies, amazing defensive play and smart attacks were displayed by both teams as the Tigers were able to prevail in a very exciting 3 set match (22-25, 25-22 & 18-16).
Feeling the wear and tear of two straight weekends of highly competitive volleyball and dealing with some nagging injuries, our Tigers 16u Black team would have to face the tournament's other favorite in the Niagara Rapids Summit team in the Gold Medal match. With the Tigers never quit attitude, some playing in different positions, the girls layed it all out and gave their best effort to make a match of it. Unfortunately, with little left in the Tigers tank, the Rapids were able to take advantage and win the Championship match 25-22 & 25-18.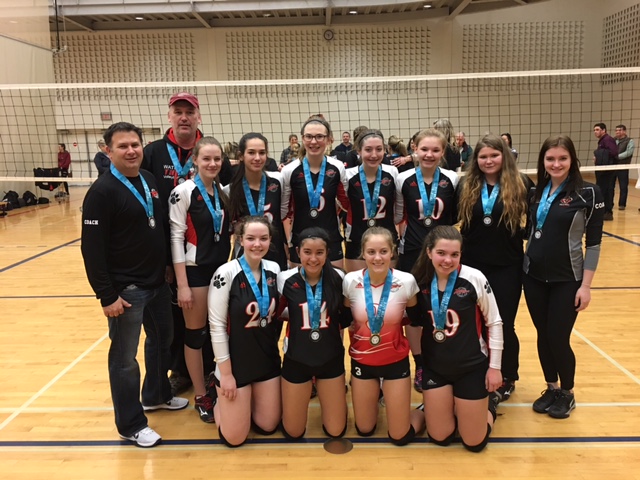 With their chins held high, and a great show of sportsmanship, the girls received their Silver medals and vowed to even the score should they get a chance to.
Go Tigers!!!